At US border, era of fence-building, manpower 'surge' at an end
A strategy shift is under way at the US border patrol, with intelligence and risk to national security taking priority over adding more fences and additional manpower. Why the change?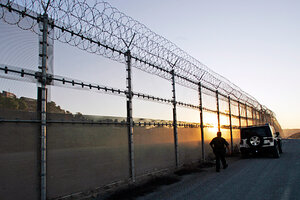 Lenny Ignelzi/AP/File
With apprehensions of illegal immigrants at a 40-year low, the US border patrol is shifting its strategy away from fence-building and a manpower "surge" at the border and toward one centered on intelligence and identifying threats to national security.
To some, the shift is overdue – a recognition that the huge expenses incurred under the former policy are out of proportion to its achievements. To others, it is folly to step back from an approach that, they say, has played a vital role in driving down illegal border crossings.
The new strategy, which border patrol chief Michael Fisher sketched last week for a House panel, is crafted around the idea of risk assessment. It is the clearest indication yet that the Obama administration intends to concentrate on intercepting repeat crossers and other potential threats to national security, according to a recent Associated Press report that included an interview with Mr. Fisher. US officials have said in the past that frequent border crossers may be among the most likely to be involved in criminal smuggling of drugs and humans.
Measures to tackle the growing problem of corruption among border patrol agents are also part of the plan, the AP report said. Moreover, illegal immigrants caught trying to sneak into the US will increasingly face consequences that are more serious than simply being deported. In some areas, including the busy Tucson sector in Arizona, which remains the most popular crossing point, illegal border crossers already face jail time.
---