Cybersecurity: How US utilities passed up chance to protect their networks
Cybersecurity needs are not hypothetical, as the recent DHS warning of a cyberattack on the US natural gas industry shows. Why then was a post-9/11 initiative to secure US utilities dropped?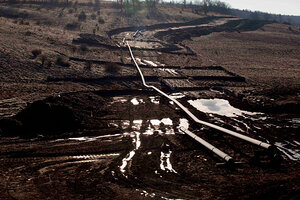 Les Stone/Reuters/File
With America now trying to thwart a cyberattack on its natural gas industry, it is helpful to recall the hectic days after 9/11, when industry scientists raced to shield from potential terrorist cyberattacks hundreds of thousands of vulnerable devices that control vital valves and switches on America's gas pipelines, water plants, and power grid.
It was a race that seemed winnable. After five years of intense effort, a 35-member team of industrial-control-system wizards from the gas, water, and electric utilities industries had created a powerful new encryption system to shield substations, pipeline compressors, and other key infrastructure from cyberattack.
But just weeks before it was to be finalized in 2006, the federal funding plug was pulled on development of the encryption system, called AGA-12. Meanwhile vital industry backing from the American Gas Association and its partners at the electric power and water utility industries that once drove that funding had waned, say those who worked on the project. [Editor's note: The original version of this story mischaracterized the funding source for AGA-12 development.]
To this day, the cancelation of the project has called into question whether US utilities will, on their own, invest in measures necessary to protect their networks.
Tested at a Los Angeles water treatment plant, a gas utility in Chicago, and other locations, AGA-12 worked well. National labs verified it. Experts said it was good to go. Yet with 9/11 receding in memory, utility industry executives had begun worrying anew about the cost of deploying the system, former project participants say.
---