Solar eclipse: How to safely watch this evening's 'ring of fire'
During this evening's 'ring of fire' solar eclipse, what should be a spectacular display will be seen across much of the American West. Here's how to watch it safely.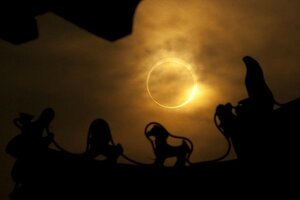 Alexander F. Yuan/AP
If you're one of the lucky ones living across a broad swath of the United States from the Pacific Northwest to north Texas, you're in for a rare treat this evening.
It's called an "annular solar eclipse," which happens when the moon slides over the sun, blocking out the center and leaving a glowing ring called an "annulus."
We could get into "umbra," "penumbra," and "antumbra" but you'll have to Google those yourselves. The main thing is, the difference between an annular solar eclipse and a total eclipse of the sun has to do with how far away the moon is from the earth.
The closer to the earth it is, the larger the moon appears – blocking out more of the sun. When the moon is farther away from the earth, it appears smaller, leaving that "ring of fire" when it appears to pass in front of the sun. Right now, the moon is at its greatest distance from the earth, hence an especially wide fiery ring.
Actually, it's not only Americans along that swath who'll be able to witness this very occasional solar-lunar event. (The last one was in 1994.)
---