Secret Service chief denies 'culture' of impropriety
Secret Service Director Mark Sullivan said the scandal involving agents and prostitutes in Colombia was not part of a 'systemic issue.' But Sen. Susan Collins said it 'was almost certainly not an isolated incident.'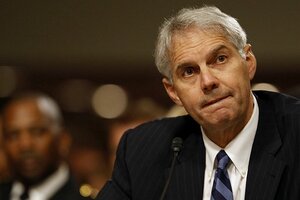 Gary Cameron/Reuters
US Secret Service Director Mark Sullivan, in his first congressional appearance since the prostitution scandal erupted in April, on Wednesday rejected allegations that a culture of improper behavior exists in his agency.
"This is not a cultural issue, this is not a systemic issue," Mr. Sullivan told the Senate Homeland Security Committee.
But lawmakers' questions at the hearing showed the Service is struggling to shake off the scandal involving prostitutes in Cartagena, Colombia.
The committee chairman, Sen. Joe Lieberman (I) of Connecticut, reported that there have been 64 allegations of misconduct by agents over the past five years, including improper relationships with foreign nationals.
Some former employees of the agency say that it is especially on assignments abroad that the culture of improper behavior exists.
Although Sullivan enjoys a good reputation with Congress, some lawmakers remain skeptical of his defense of his agency.
"The facts so far lead me to conclude that, while not at all representative of the majority of Secret Service personnel, this misconduct was almost certainly not an isolated incident," Sen. Susan Collins, (R) of Maine, said. "The numbers [of agents] involved, as well as the participation of two senior supervisors, lead me to believe that this was not a one-time event. Rather, it suggests an issue of culture."
---