Etan Patz case: Are today's kids less likely to be nabbed by a stranger?
The abduction of Etan Patz in 1979 became part of a mosaic of parental fear that dramatically changed the American childhood experience. But it also saved lives, data suggest.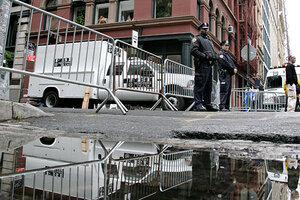 Peter Morgan/AP/File
New York police say a man has implicated himself in the abduction and killing of Etan Patz, a toothy, tow-headed 6 year old who disappeared on May 25, 1979 – the most solid lead so far in solving a case that shocked a nation and contributed to changing the American childhood experience.
Etan's abduction came to symbolize growing fears about "stranger-danger" and helped spark a missing children's movement that began putting photos on milk cartons and has professed to saving hundreds of children's lives.
But fears stoked by the Patz abduction and other similar cases, fueled by the rise of cable TV, also shadowed childhood with parental fears that even dwinding crime statistics and low stranger-abduction rates could not assuage.
"When Etan was first missing, the working assumption on the part of the parents was that some forlorn woman had seen this angelic child at a bus stop and had taken him to raise as her own," says Lenore Skenazy, a New York writer who advocates against fear-based parenting. "It wasn't until later, when police said that sometimes it's actually not a woman who captures a child, but a man who intends to … murder them. When that hit the airwaves, it was a match that sparked a fire that's been raging ever since."
On Thursday, New York police took into custody Pedro Hernandez of Maple Shade, N.J., expressing "cautious optimism" that his story – that he strangled Etan and put him a box to dispose of the body – is true. At the same time, police say, not all facets of Mr. Hernandez's story add up. He has not yet been charged with any crime, though charges could come as early as today.
---