Obama tells Congress, Europe to get in gear
In a news conference, President Obama capped a tough political week by blaming Congress (again) for failing to pass his jobs plan and urging Europe to address its financial crisis.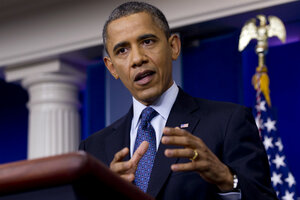 Carolyn Kaster/AP
Amid signs of growing US economic weakness, President Obama took to the White House briefing room Friday to call on Congress once again to pass jobs legislation and on European leaders to stabilize their finances and prevent a global downturn.
Mr. Obama expressed confidence that the US financial sector was prepared for a "range of contingencies" related to the European debt crisis, but added that the threat of renewed recession in Europe could hurt the fragile US recovery.
"If there's less demand for our products in places like Paris or Madrid, it could mean less businesses – or less business for manufacturers in places like Pittsburgh or Milwaukee," Obama said in a hastily called press conference.
The president called Europe's challenges "solvable," by taking measures to strengthen the banking system and by carrying out longer-term structural reforms.
On the home front, Obama pointed toward the Republican-controlled Congress as another source of drag on the US economy. As he has done many times before, the president blamed Congress for failing to pass in full a jobs package he introduced last September, aimed at putting firefighters, teachers, construction workers, and others back to work.
---