War on religion? North Dakota Measure 3 aims to strike back.
Measure 3, a North Dakota ballot initiative set for Tuesday, would demand that the government have a 'compelling interest' before it puts a 'burden' on people following religious beliefs. Critics call it an answer to a nonexistent problem.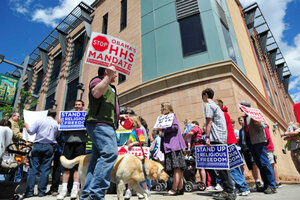 Eliza Wiley/The Independent Record/AP
By all accounts, spring elections in North Dakota are usually sleepy affairs: maybe a couple local ballot initiatives or a handful of city council or school board races. Not this year, though.
Voters across the state weigh in on four ballot initiatives on Tuesday. While most of the radio chatter and letters to the editor have concerned a property tax initiative or the question of changing the logo of the University of North Dakota, it's the 83-word amendment known as Measure 3 that is turning into a flashpoint with national implications heading into November elections.
"It's very easy to get something on the ballot in North Dakota, so I think a lot of groups say: 'This is a good place, you get a good bang for your buck here.' And then you get your national attention," says Mark Stephen Jendrysik, a political scientist at the University of North Dakota, the state's flagship university.
North Dakota's Measure 3 has galvanized religious groups, human service organizations, and civil rights lawyers, turning the vote from a local issue into a noteworthy skirmish in the larger national clash over religion, the government, and civic life.
Called the Religious Liberty Restoration amendment, the measure would add a clause to the state constitution stipulating that the government must have a "compelling interest" in order to "burden" a person whose actions or decisions are informed by religious belief and that the government should use the "least restrictive means to further that interest."
---