How Asians displaced Hispanics as biggest group of new US immigrants
The share of Asians among US immigrants has been growing for years, but the data released Tuesday show that a decline in Hispanic immigration is equally important.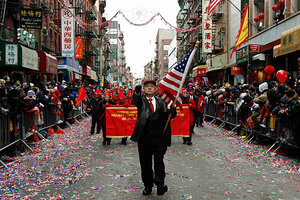 Shannon Stapleton/REUTERS/File
Asians now make up the largest share of immigrants – both legal and illegal – coming to the United States annually, outpacing Hispanics, according to a nationwide study by the Pew Research Center in Washington.
The study, released Tuesday, found Asian Americans are not just the fastest-growing racial group in the US, but they are best educated with the highest incomes.
The increase in Asian immigrants coincides with a decline in Hispanic immigration. Stricter immigration enforcement in the US takes a greater toll on Hispanic immigrants because data show they are more likely to be here illegally. For example, 45 percent of Hispanic immigrants are undocumented compared with about 13 percent of Asian immigrants, according to the survey.
Moreover, the economic downturn has lessened the incentives for working-class immigrants to cross the border from Mexico.
"To some extent, the story is about continuing immigration from Asia, but it's also about the shoe dropping on the other foot, which is the fact that Latino immigration has dropped sharply," says D'Vera Cohn, senior writer for Pew and a co-author of the report.
According to the report, the number of immigrants from Asia first outpaced Hispanics in 2010, when about 430,000 Asians arrived compared with 370,000 of Hispanics. Overall, the Asians made up 36 percent of legal and illegal immigrants compared with 31 percent for Hispanics. The gap between the groups had been narrowing for a decade, starting in 2000 when Hispanics represented 59 percent of new immigrants and Asians 19 percent.
---