Why tropical storm Debby is such a wet, sloppy slow poke
Like the guest who overstays her welcome, tropical storm Debby is inclined to just sit over the Florida panhandle – and dump more rain than any host could possibly absorb. How much longer will it stay?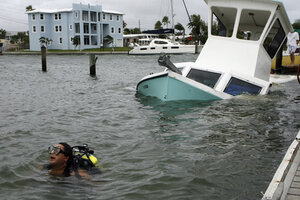 Dirk Shadd/The Tampa Bay Times/AP
For residents of Florida's panhandle and into southeastern Georgia, tropical storm Debby might as well be renamed Debby the Drencher.
Fed by warm Gulf waters, the slow-moving tropical cyclone dumped upwards of 20 inches of rain on the panhandle on Monday. Forecasters in Tallahassee anticipate another three to six inches of rain Tuesday as the storm's center, currently about 107 miles northwest of Clearwater, Fla., moves toward the northern Florida coast.
As of 11 a.m. Tuesday, forecasters at the National Hurricane Center in Miami put the storm's probable landfall at Waccasassa Bay, about 75 miles north of Clearwater, about 8 a.m. Wednesday.
Over land, Debby is expected to weaken to a tropical depression. But by 8 a.m. on Friday, the storm will have moved over the Atlantic and regained tropical-storm status as it veers to the northeast.
The storm is packing maximum sustained winds of 40 miles an hour, and is moving east at a leisurely 3 miles an hour.
For residents of the northeast Gulf, Debby's departure, when it comes, will be none too soon.
Earlier Tuesday, Florida state troopers reportedly shut down a 50-mile section if Interstate 10, just east of its intersection with I-75 near Lake City, Fla., because of flooding. High winds and flooding also prompted authorities to close two major arteries over Tampa Bay that connect Tampa to St. Petersburg.
---