Screenwriter Nora Ephron 'loved a good New York story'
Nora Ephron, famous for her romantic comedies, has died. New York City Mayor Michael Bloomberg says the city's art community will miss Ephron, who set many of her stories there.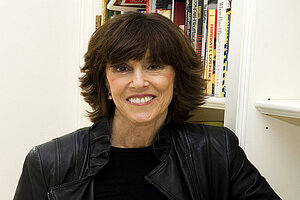 AP Photo/Charles Sykes, file
Oscar-nominated screenwriter Nora Ephron, known for romantic comedies "When Harry Met Sally" and "Sleepless in Seattle" as well as books and essays, has died in New York.
"It is with great sadness that we report that Nora Ephron has died," her publisher Alfred A. Knopf, said in a statement. "She brought an awful lot of people a tremendous amount of joy. She will be sorely missed."
The New York Times cited her son, Jacob Bernstein, as saying Ephron died. Bernstein is a freelance reporter for the Times.
New York City Mayor Michael Bloomberg issued a statement calling the loss "a devastating one" for the city's arts and cultural community.
"From her earliest days at New York City's newspapers to her biggest Hollywood successes, Nora always loved a good New York story, and she could tell them like no one else," Bloomberg said in a statement.
Ephron, who often parlayed her own love life into movies like "Heartburn" and gave her acerbic take on aging in the 2010 essay collection, "I Remember Nothing: And Other Reflections," had kept her illness largely private except for close friends and family.
---