Why Jerry Brown's budget gambit may backfire with California voters
Gov. Jerry Brown and fellow Democrats got halfway to closing California's budget deficit by cutting. They hope voters will opt to raise taxes come November to cover the rest. But the political winds may be blowing against them, analysts say.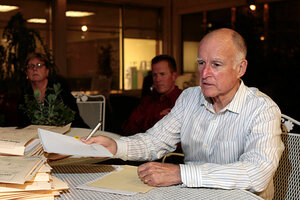 Rich Pedroncelli/AP
The state budget that California Gov. Jerry Brown signed late Wednesday will balance only if voters in the Golden State approve $8 billion in new taxes in November – and Mr. Brown and fellow Democrats in the capital are painting a dire picture of what will happen to public schools and social services if voters reject that option.
But it's a gambit that could well backfire, say angry Republicans and some political analysts, given the political dynamic at work in the state.
Democrats note that the budget already makes $7.7 billion in cuts in social services – halfway to closing the $15.7 billion deficit for the new fiscal year, which begins July 1. If California voters reject the ballot initiative on higher taxes, the new budget calls for a series of automatic cuts to kick in, including three fewer weeks of public school for two years.
It's a risky move for Brown.
"This budget frames Brown's tax proposal in November as the following offer: vote for the tax, or the kids get it," says Jack Pitney, professor of government at Claremont McKenna College. "The question is whether voters will find that message appealing."
Noting that California voters recently rejected a new tobacco tax, Mr. Pitney says, "you have to wonder if they would now accept this much broader tax."
The November ballot initiative asks voters to increase for five years the state income tax levied on those who earn more than $250,000 annually. It boosts the state's sales and use tax by one-half cent for four years, and allocates 89 percent of these temporary tax revenues to K-12 schools and 11 percent to community colleges.
Some analysts say the new budget essentially does what Brown promised voters he wouldn't do – kick the can down the road.
---