Death Valley heat in Kansas? How the end of June got so hot.
Norton Dam, Kan., hit 118 F. on Thursday, and 32 communities from Colorado to Indiana just posted their highest temperatures ever. Forecasters say back-to-back La Niñas are partly to blame.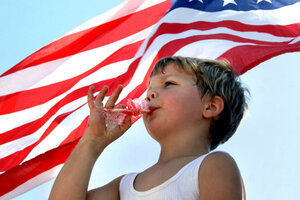 Sandra J. Milburn/The Hutchinson News/AP
Across the US, high-temperature records are falling like beads of sweat, thanks in part to back-to-back La Niñas and a current jet-stream pattern that is steering storm systems coming off the Pacific well up into Canada.
These records appear to be falling into step with a longer-term trend in which record highs are being set more often than record lows for each decade since the 1970s – a trend many climate researchers have attributed to global warming.
As June 2012 draws to a close, it feels more like mid-July or August to people in wide swaths of the country.
Between June 27 and June 28, 32 communities stretching from Colorado to Indiana posted the highest temperatures on record ever for their locations – with a handful tying or topping records set only a few days before, according to data kept by the National Climatic Data Center in Asheville, N.C.
Norton Dam, Kan., for instance, recorded an all-time record of 118 degrees F. on Thursday, two degrees above Death Valley's July average. The 118-degree reading shattered Norton Dam's previous record of 113 degrees F. – set just three days before.
---