Life in the shadow of the Colorado wildfire: beware of hungry bears
One couple forced to evacuate their Colorado Springs neighborhood unexpectedly is allowed to return and finds good news, eerie sights, and reports of famished bears.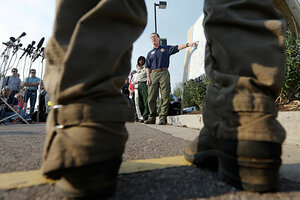 Chris Carlson/AP
This, apparently, is life in the shadow of the fire line.
Just three days ago, my husband and I were in the long line of cars leaving our Colorado Springs neighborhood, wondering – like everyone else who had been given the evacuation order – if we had just seen our house for the last time, not to mention our carefully tended vegetable garden, our wedding china, and the antique sideboard I had painstakingly refurbished.
Now, unexpectedly, we are back home.
We assumed we'd be back Sunday morning at the earliest. We had made plans to stay with friends in Denver over the weekend. We had made reservations for our pets to be boarded. We had even reserved a hotel room for the following week, just in case.
Instead, we got the word Thursday night that the evacuation order had been lifted from our neighborhood.
Now, we find ourselves in a relatively undamaged house but virtually alone amid what seems a ghost town, the burning summit of Blodgett Peak still glowering to the north, the neighborhoods across the street still darkened and barricaded because they remain under mandatory evacuation.
Police squad cars, lights flashing silently, guard against looters. According to police scanner traffic, at least 40 homes in the burn area have been broken into. We hear rumors of wildlife sightings as animals flee the flames.
As of yet, we have had not met any looters or hungry bears. But we have met Valerie and Jeff, two neighbors we'd never seen before.
---