Scientists may have found Higgs boson. What next?
Physicists working at CERN's Large Hadron Collider say it's possible they've discovered the long-sought 'God particle'. The Higgs boson could lead to 'new physics', they add.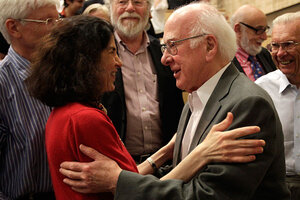 Denis Balibouse/AP
Two teams of researchers say they have found a new, fundamental subatomic particle with a handful of traits that are consistent with those predicted for a long-sought Higgs boson – a particle linked to the mechanism that gives mass to other fundamental particles.
The results, presented Wednesday, are preliminary. Still, the data the teams presented drew thunderous applause and a standing ovation from physicists packed into a lecture hall at the European Organization for Nuclear Research in Geneva, where the results were presented.
In December, the same teams unveiled results that hinted they'd found a particle. But this time each team, using independent ways of hunting for Higgs bosons, found their results matched for a few key measurements, each set carrying literally a 1 in a million chance of being wrong.
"As a layman, I'd say we have it," said CERN Director-General Rolf Heuer. As a scientist, however, he added that researchers now have to figure out what "it" is.
The particle's mass, for instance, falls within the range predicted for a Higgs boson that would fit into the so-called standard model – a description physicists have painstakingly built of the fundamental particles that make up matter and the forces that govern their interactions.
But some theories predict more than one Higgs boson. And it's possible an unpredicted Higgs wannabe could display some of the predicted properties, a discovery that would drive theorists back to their white boards.
"One of the most exciting aspects of this observation is that the road remains open for a vast range of 'look-alike' alternatives, where any deviation from the Standard Model would point the way to the existence of other new particles or forces of nature," said Harvey Newman, a physicist at the California Institute of Technology in a prepared statement.
---