Plug-in vehicles taking the slow road to 1 million in sales
Plug-in electric vehicles are not selling as quickly in the US as boosters had hoped. A new report estimates that it will be 2018 before 1 million such vehicles are plying US roads.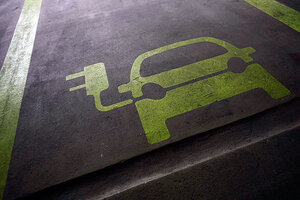 Tyrone Siu/Reuters/File
The goal of putting 1 million plug-in electric vehicles on America's roads is apparently going to take longer than some – including President Obama – had hoped.
Given current trends in sales and barring some unforeseen major event, that number will be attained in 2018, according to a new report by Pike Research, a Boulder, Colo.-based clean-energy market research firm. Mr. Obama, when he first campaigned for president in 2008, vowed to get the nation on the road to energy independence by putting 1 million plug-in electric vehicles on US roads by 2015.
The challenge is that public acceptance of the new plug-ins is not coming as quickly as had been hoped.
Still, sales of high-tech plug-ins – vehicles powered mainly by electricity – from 2010, 2011, and the first five months of 2012 are occurring at a faster clip than did sales of gasoline-electric hybrids, such as the Toyota Prius, during their initial launch years. Using those trend lines, Pike Research says US sales of plug-in vehicles will reach 47,966 units in 2012, making the US the largest adopter of plug-in electric vehicles. The US is expected keep this role as an "early adopter" at least through 2020.
---