DNSChanger cutoff is more whimper than bang. Score one for the good guys.
Cutting off Internet access to computers infected with the nasty DNSChanger trojan did not bring about doomsday after all. Why, beyond the obvious, that's good news in the cybersecurity world.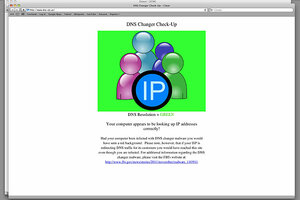 DNC Changer Working Group/AP/File
Do more than 200,000 computer users worldwide make any sound if they can't connect to the Internet? Apparently not – or not much, anyway.
Despite a slew of hyperbolic headlines proclaiming Sunday at midnight to be an "Internet doomsday," the clock struck 12 and … there was no massive digital meltdown. (Although there may have been some emotional outcries that carried only as far as home-office walls.)
At least one cybersecurity executive is hailing the lack of resulting drama Monday as a "victory of shared collective intelligence."
The non-catastrophe unfolded when, as expected, computer servers that for eight months had supplied malware-infected computers worldwide with a temporary Internet connection, were finally shut down Sunday night following a federal judge's order.
During those eight months, Google, Facebook, the FBI, Internet service providers (ISPs), and others had bombarded some 4 million computer users worldwide with e-mails and other notices warning them that their machines were infected with a nasty trojan called the DNSChanger.
Apparently that public information campaigned worked pretty well. By late last month, just 250,000 computers worldwide remained infected with DNSChanger, the creation of a cybergang bent on defrauding Internet advertisers.
Even so, as of Sunday night just before the cutoff, 210,851 computers and routers worldwide still remained infected with DNSChanger, among them 41,557 computers and routers in the US. All seemed bound to have the plug pulled on their Internet service.
---