Drought threatens to darken Obama reelection prospects
With nearly two-thirds of the US enduring drought conditions, food prices are expected to jump ahead of the November election. That could add to voter anxieties about the economy.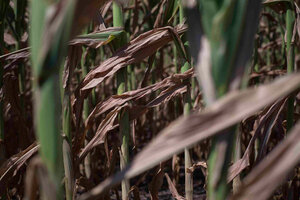 Adrees Latif/Reuters
A massive drought parching some of America's most productive farm regions is pushing food prices up to the point where wilting corn plants could influence the presidential election.
More than 1,000 US counties – many of them in the grain capitals of the Midwest – have applied for federal disaster relief, meaning they've had drought conditions for more than eight weeks. Moreover, 61 percent of the US is now considered drought-stricken, the highest percentage in the 12-year history of the US Drought Monitor.
Drought or no drought, the US will still produce about a third of the world's corn and will see its third-largest corn crop ever. Moreover, a drought prognosis by Iowa State University agri-economist Chad Hart suggests that parts of the country – including Georgia and portions of Texas – are likely to see relief as the summer progresses, even as some part of the Midwest may see dry conditions worsen.
But if wilting plants result in yield below what was expected in the futures markets, prices will rise further. Already, prices have risen by about 30 percent, meaning consumers could see short-term price impacts on manufactured goods like cereals and even soft drinks this fall and rising meat prices next year.
Researchers have pegged inflation and "rate of income" as two major factors for voters in presidential elections. With gas prices again inching up and "now the drought impact on the food sector, we're going to have an inflation issue here, and that will put a damper on consumer confidence and will have a major impact on the election," says Michael Walden, a consumer economics expert at North Carolina State University in Raleigh.
Record-setting heat waves that have fueled fires in the Mountain West have also had a dramatic effect on the corn crop at a particularly vulnerable time. Currently, 30 percent of the corn crop in the 18 chief corn-growing states is now in poor condition, up 8 percentage points from a week earlier.
---