Senators push Bernanke: Was Fed asleep in the LIBOR rate scandal?
Fed Chairman Ben Bernanke was questioned by senators Tuesday about the central bank's role in the LIBOR rate-setting scandal. He said the Fed had pushed for reform of the rate setting process in 2008 when it became concerned about manipulation of the influential benchmark.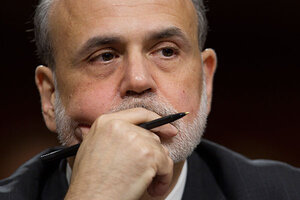 Carolyn Kaster/AP
The chairman of the US Federal Reserve came under pressure Tuesday to explain what role his institution played in the scandal over the LIBOR, an interest rate that serves as a benchmark for numerous other lending rates in the global economy.
Ben Bernanke told a Senate Committee that Fed officials pushed for reform of the rate-setting process in 2008, when it became clear that the LIBOR system was subject to manipulation by private sector banks. The LIBOR, which stands for London Interbank Offered Rate, is set based on voluntary reports by private banks -- rather than by observable transactions such as prices on bond trades.
Chairman Bernanke said the Fed in 2008 gave a substantial response by alerting other regulatory authorities and by making recommendations to officials in Britain, where a bankers'association helps to manage the LIBOR calculations.
"Why have we allowed it to go on the old way when we knew it was flawed?" Sen. Pat Toomey (R) of Pennsylvania asked.
"Because the Federal Reserve had no authority to change it," Bernanke replied.
"You have enormous influence," Senator Toomey retorted.
Controversy over the rate-setting process has emerged in recent weeks, as news reports have focused on the role of Barclays, one major bank that will pay $453 million in fines for falsely reporting its borrowing costs, and thus distorting the LIBOR benchmark.
---