Obamacare is radical? Vermont thinks even bigger, with single-payer plan.
Vermont plans to become the first state to adopt a single-payer health-care system. Its backers say it will cut costs and create jobs, but critics say the centralized control will drive away doctors.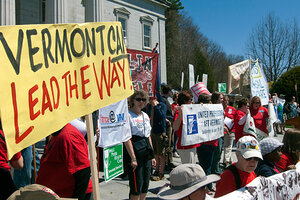 Mark Collier/Times Argus/AP/File
When Dr. Alan Binnick decided to retire after 34 years, he tried for more than a year to find someone to take over his dermatology practice in the southwestern Vermont town of Bennington – free of charge.
Last November, he gave up, saying his search failed in no small part because of Vermont's health-care reform effort, perhaps the most radical in the United States.
"There's a sense of uncertainty that made (potential doctors) choose other positions elsewhere, where they know they're in demand," Dr. Binnick says.
Tiny, quirky Vermont is at it again, tackling pressing social concerns with a progressive vengeance. This time, it's health care, and if all goes well, by 2017 or even earlier, the state of 626,000 plans to become the first in the country to adopt a single-payer system. But there's serious uncertainty about what it will look like, and how it will be paid for.
"It's one model for solving the health-care problem, and it's quite different from what the rest of the country is heading toward," says Elliott S. Fisher, director of the Center for Population Health at the Dartmouth Institute in Hanover, N.H. "I think it'll have tremendous significance."
The Supreme Court's June 28 decision cleared the way for President Obama's Affordable Care Act, with some provisions kicking in as early as next year. The act drew much of its framework from the landmark 2006 Massachusetts law that for the first time mandated that all residents have health insurance.
---