Obamacare insurance exchanges: look to California
Well before last month's Supreme Court ruling, California already had a jump on setting up the health-care marketplaces known as insurance exchanges. Now as the 2014 deadline approaches, many states will be looking to the Golden State for lessons on what to do.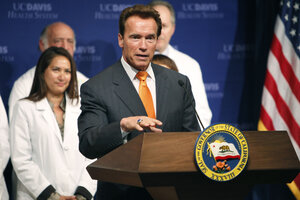 Steve Yeater/AP
California has long been ahead of the game in many policy matters: taxes, religion, environment. Now add to that health-care reform and the complicated process of creating a marketplace for people to shop for health-care plans.
With the federal requirement that all states must have a so-called health-care exchange up and running by 2014, many states will be looking to the Golden State for lessons on how it has run its exchange since its inception in 2010.
According to health providers, insurance agents and state officials, here's the takeaway: Start as early as you can, be ready for great excitement over the possibilities and great frustration in implementation, have an army of flexible tech geeks and have infinite energy.
Under the Affordable Care Act (ACA), which got the Supreme Court's endorsement June 28, health-care exchanges must be established in each of the 50 states. Exchange operators will have to figure out how to make them understood to consumers, what sort coverage and benefits will be available and which insurance companies will be allowed to participate. States can join together to run multistate exchanges or choose not to run one at all, in which case the federal government will do so.
Already several states— New Jersey, South Carolina, Louisiana, among others— have announced they would refuse to set up the exchanges, leaving it in the hands of the federal government. Other states, like Mississippi, are moving ahead to design their own exchanges precisely because they don't want the federal government to do it for them.
---