L.A. earthquake: Blasé Angelinos snooze through temblor
A 3.7 magnitude earthquake rattled Los Angeles early Wednesday morning. No damage or injuries were reported, and most Angelinos slept through it. Or tweeted.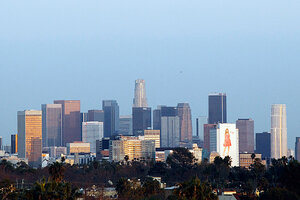 Mario Anzuoni/Reuters/File
In a fault zone with 10,000 temblors a year, the stories have become so commonplace as to almost not make the local TV news anymore. They are framed by conflicting reports that confuse the outsider:
Business consultant Tom Drucker, who lives on the third-floor of a stilted complex on reclaimed land near the beach – and thus feels crashing storm waves – felt nothing. Carey Wood, a resident of an inland Venice bungalow was shaken out of sleep.
"It woke me up, which is crazy because everyone who knows me knows nothing can wake me up," said Ms. Wood.
Both are just two miles from the epicenter of a 3.7 magnitude earthquake that rattled nerves here at 3:18 a.m. Local officials say no damage or injuries have been reported from the temblor which the USGS has said hit at a depth of 5.6 miles. They said the epicenter was 12 miles from the downtown Los Angeles Civic Center.
According to the Berkeley Seismological Laboratory over 37,000 quakes a year happen in California, about 10,000 in Southern California.
Dr. Kate Hutton, seismologist from Caltech, says "there's probably nothing of significance to this except that it is a good reminder to everyone that they live in a fault zone and they need to be ready for the future. Check out your supplies, batteries and make sure that your storable food is not out of date."
---