Disabled Americans: Jobless rate still high 22 years after landmark law
Twenty-two years after passage of the landmark Americans with Disabilities Act, there's progress, but employment rates for the disabled remain dismally low. Advocates hope to change that.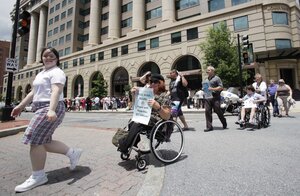 Yuri Gripas/Reuters
Three years ago, Emilea Hillman got fed up with her $2.50 an-hour job hanging clothes at a sheltered workshop for people with disabilities and opened her own business. Now, Em's Coffee Co. employs six people, some of whom also have disabilities, and turns a nice profit.
But among the disabled, Ms. Hillman, born with a brain condition that makes it hard to learn certain tasks, and her employment history is an exception. Twenty-two years after passage of the landmark Americans with Disabilities Act, the employment rate for people with disabilities is still dismally low, and advocates want to change that.
"The ADA … has made a difference in the lives of people with disabilities … but [for employment] the needle hasn't moved," says Helena Berger, executive vice president of the American Association of People with Disabilities in Washington.
The recession hit disabled workers particularly hard – with a 10.4 percent decline in employment, compared with 2.1 percent for the general workforce, according to a report this month by the US Senate Committee on Health, Education, Labor and Pensions.
Just 32 percent of the disabled were in the labor force as of June, while 80 percent say in surveys that they want to work, the report found. By contrast, the labor force participation rate for people without disabilities is 77 percent.
Ms. Berger says "attitudinal barriers" from employers is part of the problem: too many still fear a disabled worker will be sick more often or that their insurance rates will go up, rather than seeing the skill sets the individual brings.
Sen. Tom Harkin (D) of Iowa, who chairs the health committee and was an author of the ADA in 1990, has held a series of hearings recently to highlight ways that the government and the private sector can ensure better access to training and competitive jobs.
---