Bath salts: Police raids net huge haul of synthetic drugs
Federal agents and state and local police made more than 90 arrests in nationwide raids. Experts say bath salts and other potent synthetic drugs are becoming popular, particularly among teens.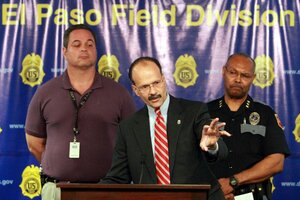 Rudy Gutierrez/AP Photo/The El Paso Times
Federal drug agents and state and local police staged raids across the US, yielding more than 90 arrests and what they said were major seizures of potent, synthetic drugs including so-called "bath salts."
New York, Illinois, and Texas had the highest number of cities with "take-down sites," as part of what the federal Drug Enforcement Agency called Operation Log Jam. The DEA said 5 million packets of the drugs were seized from both drug retailers and manufacturing operations, as well as chemicals that could have produced about 14 million more such packets.
"This enforcement action has disrupted the entire illegal industry, from manufacturers to retailers," DEA Administrator Michele Leonhart said in a statement Thursday.
The crackdown targeted two categories of drugs. One, known as synthetic cannabinoids, includes smokeable substances commonly called "K2" and "Spice." They are typically made up of plant material coated with dangerous psychoactive compounds. Among 12th-graders these are the second most commonly used illicit drug, with 11.4 percent using it, according to a 2011 survey cited by the Office of National Drug Control Policy.
The other category was synthetic cathinones often known as "bath salts" which are sold with street names like "Vanilla Sky" or "Purple Wave." They can produce hallucinations, suicidal thoughts, violent behavior, and physical ailments, drug-abuse prevention experts say, and users have also reported extreme paranoia, and reduced motor control.
---