Colorado shooting suspect was seeing university psychiatrist
Defense attorneys for James Holmes filed court papers that say Holmes was being treated by a psychiatrist at the University of Colorado prior to the 'Dark Knight' shooting at an Aurora theater.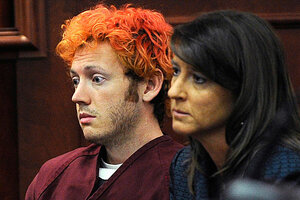 (AP Photo/Denver Post, RJ Sangosti, Pool, File)
The former graduate student accused in the deadly Colorado movie theater shooting was being treated by a psychiatrist at the university where he studied, according to court papers filed Friday.
Defense attorneys for James Holmes, 24, made the disclosure in a court motion. It sought to discover the source of leaks to some media outlets that Holmes sent the psychiatrist a package containing a notebook with descriptions of an attack.
The motion says that the leak violated a judge's gag order in the case and jeopardizes Holmes' right to a fair trial.
"The government's disclosure of this confidential and privileged information has placed Mr. Holmes' constitutional rights to due process and a fair trial by an impartial jury in serious jeopardy," wrote the attorneys.
IN PICTURES: Aftermath of Colorado shooting
The motion adds that the package contained communications between Holmes and his psychiatrist that should be shielded from public view. The document describes Holmes as a "psychiatric patient" of Dr. Lynne Fenton.
As The Christian Science Monitor reported, the contents of the package could be used by both sides in the legal case.
---