Colorado shooting: If not gun control, then bullet control, lawmakers say
In the wake of the Colorado shooting, two Democratic legislators urge restrictions on the purchase of large quantities of ammunition online. As with gun control, the effort faces an uphill battle.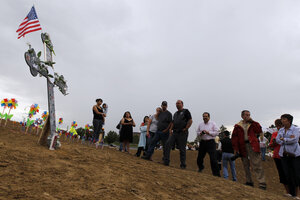 Alex Brandon/AP
James Holmes, the man charged with gunning down a dozen people in a Colorado movie theater, was able to buy 6,000 rounds of ammunition over the Internet in a relatively short period of time. No questions asked.
His relative ease at obtaining more than enough ammo to supply an Army infantry squad going into combat prompted two Democratic legislators to announce they planned legislation to make it more difficult to buy that many bullets that quickly.
But the effort by US Senator Frank Lautenberg (D) of New Jersey and US Rep. Carolyn McCarthy (D) of New York faces a tough struggle in Congress, which has shown little interest in passing new gun control legislation. Despite the public's abhorrence over the July 20 shootings, which killed 12 and also wounded 58, support for gun owner rights remains relatively high.
Holmes allegedly used a civilian version of the military's M-16 rifle with a 100-round drum magazine, a shotgun and two .40 caliber semi-automatic handguns in the massacre.
Called the Stop Online Ammunition Sales Act, the idea behind the legislation is that federally licensed gun and ammunition dealers would have to alert the police that an unlicensed individual is buying a lot of ammo. What will the police do?
---