Sikh temple attack: Gunman was in racist hardcore rock band
Wade Michael Page, the man accused in the deadly Sikh temple shooting, was lead guitarist for a racist hardcore rock band. He was also a former soldier in one of the US Army's Psychological Operations units.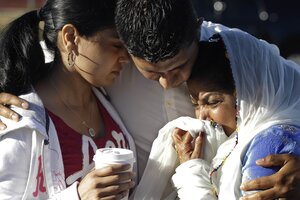 M. Spencer Green/AP
The man who shot and killed six people at a Sikh temple in Wisconsin was a six-year military veteran who legally purchased the handgun used in the attack and who had other weapons stored at his home, police said Monday.
Officials have identified Wade Michael Page as the primary suspect in the Sunday rampage at the temple in Oak Creek, a suburb just south of Milwaukee. The shooting also critically wounded a police officer. Mr. Page was shot and killed by police.
Oak Creek Police Chief John Edwards said Mr. Wade served in the military between 1992 and 1998 and received a general discharge. He was ineligible for reenlistment. Mr. Edwards did not say why. The US Army, meanwhile, said it appeared Page had been demoted at some point during his service, though a spokeswoman could not immediately say why.
The Southern Poverty Law Center, an organization in Alabama that tracks hate groups in the US, said Page was "a frustrated neo-Nazi" who played in a racist white-power rock band called End Apathy. The group recorded for Label 56, a record label known for its links with white supremacist groups.
---