New battle in 'Princess Wars': Disney dolls featuring ... your daughter's face
Disney continues its princess juggernaut, rolling out custom-made princess dolls that will have personalized faces etched onto them by computer. Is it good, bad, or just ... weird?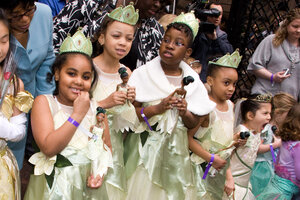 Charles Sykes/AP
Has your daughter always wanted to be a Disney princess? Now she can be one. In action figure form, that is.
For $99.95 (plus $15.95 shipping and handling), Disney will turn your daughter into a seven-inch, three-dimensional custom figurine of her favorite heroine from a Disney animated film. Aside from Cinderella and Snow White, there are five other choices: Ariel from "The Little Mermaid," Aurora from "Sleeping Beauty," Belle from "Beauty and the Beast," Rapunzel from "Tangled," or Tiana from "The Princess and the Frog."
The custom dolls are sure to be yet another battle in the "Princess Wars" – the sharp divide among parents, debated heatedly around the mommy blogosphere, about whether or not emulating the Disney princesses is good for the little girls of the world.
Proponents see the princesses as good role models: even-tempered, kind, and occasionally resourceful and tough. Their detractors decry the craze as an overly successful Disney marketing campaign turning our daughters docile, uncreative, shallow, and obsessed with appearance.
"It escalates the Disney Princess takeover of girlhood," says Josh Golin, associate director for the Campaign for a Commercial-Free Childhood, a nonprofit advocacy group based in Boston. "I have some real concerns about the body image. When you personalize by putting a girl's face on it, that sends a real damaging message about what she should aspire to look like."
---