Dallas launches air war against West Nile mosquitoes. Is it safe?
Dallas has begun aerial spraying to control mosquitoes carrying the West Nile virus. Officials say the substance is safe, and the EPA has approved its use. But not everyone is convinced.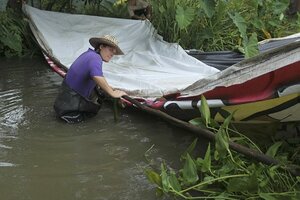 Mona Reeder/The Dallas Morning News/AP
Dallas is now engaged in an air war against West Nile disease-bearing mosquitoes.
Beginning Thursday night, aircraft are flying at low level (300 feet), spraying a mosquito-control product called "Duet." Officials say the substance – which has been approved for both ground and aerial application by the EPA – is safe, spread in low volume (less than one ounce per acre).
But there is some pushback to aerial spraying, which critics say is not wholly effective (it kills adult mosquitoes but not larva) while also killing beneficial insects, including honeybees, ladybugs, and dragonflies, as well as fish, bats, birds, and geckos that prey on mosquitoes.
The social action organization Change.org has begun a petition to stop the spraying.
Duet's two main ingredients are formulated to mimic the natural substances in chrysanthemums.
"This has been used very, very carefully in many parts of the country," says William Schaffner, who chairs the Department of Preventive Medicine at the Vanderbilt University Medical Center in Nashville, Tenn.
"Kiddies, babies, old folks, vegetables, cats and dogs – we're all safe," Dr. Schaffner told NPR.
---