Midwest rains help drought-stricken farmers, but how much?
Thanks to heavy rains across the Midwest, the amount of land under drought declined this week. The forecast for the weeks ahead looks cooler, but much damage has been done.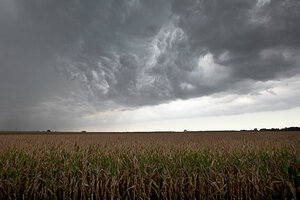 Nati Harnik/AP
Rainstorms that pounded the Midwest Thursday provided relief to farmers hit hard by the worst drought in 56 years, but agriculture experts say it wasn't enough to mitigate the lasting devastation to corn and soybean crops this summer.
Between 1.0 and 1.5 inches of rain fell across from the upper Midwest, stretching from Iowa through Ohio. Cooler temperatures between 70- to 80-degrees Fahrenheit followed and are forecast to continue through the Labor Day weekend.
The rainfall meant a reduction of land scorched by drought – 61.8 percent of the Midwest this week, down from 62.5 percent last week, according to the National Drought Mitigation Center (NDMC) at the University of Nebraska in Lincoln.
The NDMC said Thursday that 85 percent of corn grown in the US is within an area suffering from drought, along with 83 percent of the soybeans.
According to Illinois farmer John Hawkins, who is also a spokesman for the Illinois Farm Bureau, the rain may have eased the stress on fragile plant life, but "it's not going to make it whole yet by any stretch of the imagination, and there will be lower yields."
---