Hay shortage sows distress among US livestock owners
Many ranchers and other livestock owners are in a frantic search for hay, as yields shrink amid worst drought in America in 56 years. Some are selling animals for cheap. Beef prices are projected to rise.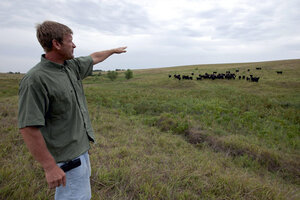 Nati Harnik/AP
Cattle ranchers and farmers are in a frantic search for hay to feed their livestock, the consequence of a summer drought that has devastated crops and could lead to higher beef prices next year.
By the end of 2012, alfalfa hay production – the dominant form of hay due to its rich nutrients – will drop 16 percent compared with the previous year, the lowest level since 1953, the US Department of Agriculture (USDA) forecasts in a report released this month.
Total hay production will likely total 120 million tons, an 8.4 percent drop from 131 million tons last year, the USDA says.
"It's really significant problem, what is going on right now," says Beth Nelson, president of the National Alfalfa & Forage Alliance, an industry trade group in St. Paul, Minn. "Because you're talking about feed for the livestock industry, it's going to take some time and it will have more than a one-year impact."
Hardest hit by the drought are the Midwest and Great Plains states, where the US Drought Monitor says the majority of the nation's hay and grazing acreage is located. To date, the drought is affecting 66 percent of US hay acreage and 73 percent of area used to graze cattle. Hot temperatures and dry conditions made the drought the worst America has experienced in 56 years, according to the National Drought Mitigation Center at the University of Nebraska in Lincoln.
Earlier this month, the USDA announced nearly $30 million in financial and technical assistance to crop and livestock operators in 19 states affected by the drought. The funds can be used to help move water to livestock in drought-stricken areas and to provide emergency forage.
---