Open season: Will rebounding Wyoming wolves thrive without US protection?
The US Fish and Wildlife Service dropped federal protections for reintroduced wolves in Wyoming Friday, part of a decades-long plan to bring back the howling of wolves while allowing 'trophy hunts' for the apex predator.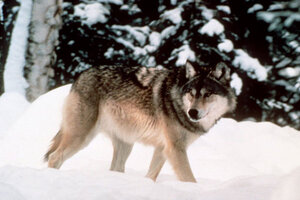 National Park Service/File
The decision Friday by the US Fish and Wildlife Service to lift endangered species protections for the gray wolf in Wyoming is a testament to the success of the 20-year federal wolf reintroduction effort.
But the move also opens the door to a bloodier era in which Americans will be emboldened to challenge encroaching packs and lone wolves to protect property and livestock.
The return of the gray wolf continues to rivet the Mountain West, where some 2 million wolves roamed before settlers drove them to extinction by the 1930s. Nearly 2,000 animals and more than 100 breeding pairs – a tiny fraction of their original numbers – now traverse the ancestral valleys and ridgelines of their northern Rockies range.
Along with reintroduced animals in Montana, Wyoming, and Idaho, states like Michigan, Minnesota, Oregon, and Washington have also seen naturally migrating wolf populations growing steadily larger, even as hundreds of animals have been culled for intruding on domesticated herds.
"The return of the wolf to the northern Rocky Mountains is a major success story, and reflects the remarkable work of states, tribes, and our many partners to bring this iconic species back from the brink of extinction," Fish and Wildlife Service Director Dan Ashe said in a statement.
---