Why Midwest drought could have been much worse for some corn farmers
Estimates suggest that drought-resistant corn breeds might have diminished potential crop losses by one-quarter this year – a development with major implications for a hotter, more crowded world.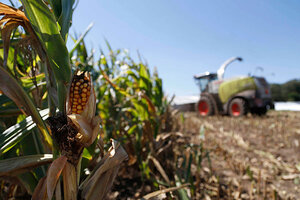 Darren Hauck/REUTERS/Files
This past spring, Carl Sousek, a fourth-generation corn and soybean farmer in Prague, Neb., seemed headed toward a record year. Then the rains stopped.
Mr. Sousek now figures he lost half or more of his crop to the drought that scorched the midsection of the country. But he knows this, too: Things could have been much worse.
"You might say I'm pleasantly surprised with the yields," says Sousek, who was harvesting his corn last week. "Considering what it went though this summer, the extreme heat and lack of rain, it still amazes me that it was able to produce as much as it has."
Sousek isn't the only one. Across the Corn Belt, farmers have expressed surprise that their corn endured drought as well as it did – much better, they say, than the varieties they planted just a decade or two ago. In Illinois, for example, one estimate suggests that corn farmers will lose one-quarter less of their crop than they did during the 1988 drought – in large part because of the seeds they planted.
Farmers are benefiting from decades of research in plant breeding combined with a growing interest in crops that can better tolerate drought and other stress. Indeed, research has shown that vulnerability to drought is one of the chief limits to crop production around the world. Meanwhile, gene mapping and other innovations have enabled scientists to develop new varieties with much greater speed and precision than before.
The results are startling, and have implications far beyond the the survival of one year's harvest in the Midwest. In a world of rising temperatures and population, improvements in drought tolerance are especially urgent.
"We're heading for 9 billion people in the future," says Mitch Tuinstra, a researcher at Purdue University in West Lafayette, Ind., who has worked on drought tolerance in corn and sorghum. "If climate change is important, and we have to double the amount of grains we produce, we have to think about how we're going to adopt to conditions like those we had in the United States this year."
---