US, Mexico in food fight over tomatoes: How messy will it get?
American tomato growers, upset at Mexico's growing share of the US market, are taking steps that could lead to new tariffs on Mexican tomatoes. Mexico's ambassador threatened retaliation.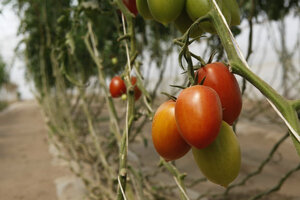 Melanie Stetson Freeman/The Christian Science Monitor
The tomato, one of America's favorite vegetables, is the focus of a burgeoning cross-border food fight that Mexican officials say could escalate into a broader trade war.
Mexican exporters currently supply about half the tomatoes consumed in the US. American growers, upset over what they see as a steady incursion of low priced Mexican produce, are trying to quash a deal that has kept the price of Mexican tomatoes low. The move could lead either to new tariffs on Mexican tomatoes or an agreement by the Mexicans to sell their produce at higher prices.
The Mexican government is threatening retaliation if the US tacks on any new tariffs.
"If Mexico's interests end up being affected, Mexico will respond," said Arturo Sarukhan, the Mexican ambassador to the US in a statement. "When Mexico aims, Mexico hits the target."
What does this mean for US consumers? Whether the US action results in higher tomato prices is hard to say. In public filings over the issue, large buyers of tomatoes, such as Wal-Mart, worry that any disruption of a stable and predictable supply of tomatoes from Mexico will hinder their ability to provide consistent pricing to the US consumer.
But the US growers say those fears are unfounded, maintaining that the US has the ability to grow enough tomatoes to keep every salad bar stocked at a reasonable price.
"I don't anticipate consumer prices will be impacted significantly at all," says Reggie Brown, executive vice president of the Florida Tomato Exchange, which represents growers there.
---