Is Venezuela's Hugo Chavez sincere in endorsing Obama?
Hugo Chávez, Venezuela's Socialist president who faces an election Sunday, calls Obama a 'good guy' and says he would vote for him. It's not an endorsement Obama is likely to tout.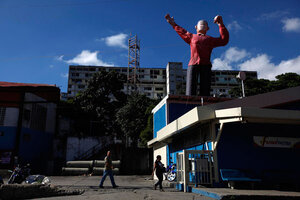 Tomas Bravo/Reuters
Presidential candidates are usually happy to tout public support from prominent figures – see Mitt Romney trading back slaps with John Elway Monday night after receiving the former NFL quarterback's nod.
But don't expect President Obama to trumpet this endorsement: Hugo Chávez, Venezuela's populist Socialist president and longtime thorn in America's side, says he'd vote for Mr. Obama.
What's more, the former military coup leader turned spearhead of Latin America's leftist lurch says he's sure that were Obama eligible to vote in Venezuela's elections this Sunday, he'd pick Mr. Chávez.
Chávez's endorsement seemed certain to rouse the fringe of conservative voters in the US who insist that Obama is a closet Socialist. Perhaps the only more provocative thing Chávez could have thrown out there, after claiming that the US president has his back, is that Obama was actually born in Venezuela.
Chávez, who pals around with the likes of Cuba's Fidel Castro and Iran's President Mahmoud Ahmadinejad and who once compared President George W. Bush to the devil, is no fan of the US and has spent his 14 years in office blasting America's influence in Latin America.
---