FBI: Border patrol agent was killed by 'friendly fire'
One US border patrol agent was killed and another wounded in gunfire Tuesday along a well-known drug-trafficking corridor near the US-Mexican border. The FBI now says it was friendly fire.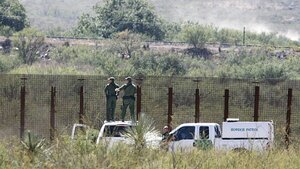 Benjie Sanders/Arizona Daily Star/AP
Three days after the shooting death of a US border patrol agent in southern Arizona, the FBI on Friday confirmed that "friendly fire" was to blame.
An ongoing investigation strongly points to the shooting that killed Agent Nicholas Ivie and injured a colleague as "the result of an accidental shooting incident involving only agents," the FBI said in a statement.
"The FBI is utilizing all necessary investigative, forensic, and analytical resources in the course of this investigation," the statement reads.
Authorities had disclosed little information about the circumstances surrounding the shooting that occurred just before 2 a.m. Tuesday. Investigators have yet to shed light on what might have caused the gunfire eruption, or who might have fired first.
QUIZ: Could you pass a US citizenship test?
Mr. Ivie was one of three agents who had responded to a tripped ground sensor in a remote region of the state – about five miles north of the US-Mexican border – that is a well-known drug-trafficking corridor.
The wounded agent was treated and released from a hospital, while the third was unharmed.
Border patrol officials on Friday told reporters that Ivie's family was aware that his death was probably accidental.
---