No surprise to students: College debt is up 5 percent for Class of 2011
But there are ways students can save on costs, say education groups. One is to simply shop around: The debt levels at even apparently similar colleges or universities can vary a lot.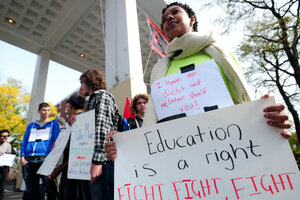 Marko Georgiev/AP/The Record (Bergen County)
Everyone has heard that student debt is dragging young people down. But by just how much? And is anything being done to lighten the load?
The average debt for a graduate of the Class of 2011 weighed in at $26,600 – 5 percent higher than for the Class of 2010, according to a report out Thursday by The Institute for College Access & Success.
"As debt levels rise, fear of loans can prevent students from getting the education they need to succeed," said TICAS President Lauren Asher. "Students and parents need to know that, even at similar looking schools, debt levels can be wildly different."
The report and a related online database show the average debt of graduates in each state, and at many individual public and private schools. Not enough for-profit colleges reported the information to be included.
Students in New Hampshire and Pennsylvania bear the heaviest load, at $32,440 and $29,959, respectively. Utah and Hawaii top the list of low-debt states, each at about $17,000.
For specific colleges, average debt of 2011 grads ranged from $3,000 to $55,250. Examples of high-debt colleges listed in the report include the public Kentucky State University and the private Nova Southeastern University in Florida.
Rising college costs are certainly a factor. But some of students' spiraling debt problems could be avoided if they had better information up front, and throughout the process of borrowing and repaying loans, other recent reports suggest.
"There is some evidence that the fact that students don't understand the loans that they are taking out could lead to them taking out many more loans than they otherwise would," says Rory O'Sullivan, policy director of Young Invincibles, an advocacy group for 18- to 34-year-olds.
---