Tainted medicine: Mass. moves to revoke pharmacists' licenses
The loss of licenses would be permanent. The FDA says it found evidence that NECC, which produced the tainted medicine, exceeded the terms of its license and violated production standards.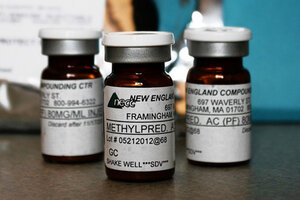 Minnesota Department of Health/Reuters
Massachusetts public health officials have moved to permanently pull the licenses of the three top pharmacists at a Bay State compounding pharmacy whose tainted medicine has been linked to more than 300 illnesses and 24 deaths in 17 states.
The move coincided with the release of preliminary findings from state and US Food and Drug Administration inspectors, who say they found evidence that the company, the New England Compounding Center (NECC), violated the terms of its license and fell short of meeting internationally recognized standards for compounding pharmacies that produce sterile drugs. These standards form the basis for state regulations governing compounding pharmacies.
Typically, compounding pharmacies produce relatively small quantities of medicines whose dose or composition is tailored to meet the needs of patients unable to use mass-produced drugs. The pharmacies produce the drugs in response to prescriptions doctors provide.
In NECC's case, the company was making and selling sterile pharmaceuticals in large quantities but without specific prescriptions from an authorized physician or other health-care provider, according to a sampling of preliminary findings the state released on Tuesday.
"NECC was operating beyond the scope of their compounding license, instead acting as a manufacturer," said Madeleine Biondolillo, director of the Massachusetts Department of Public Health's Bureau for Healthcare Safety and Quality, at a press conference outlining the initial findings.
Nationally, 3,000 out of 7,500 compounding pharmacies produce sterile products, according to the International Academy of Compounding Pharmacies. According to Dr. Biondolillo, 25 compounding pharmacies in Massachusetts are qualified to produce sterile drugs.
State and federal investigators found a range of apparent NECC violations beyond mass-production. Among them:
---