Hurricane Sandy blackouts hit millions. Can power companies cope?
With days of warnings that giant hurricane Sandy would hit the Northeast, power companies positioned supplies and thousands of extra line workers to deal with the onslaught of blackouts.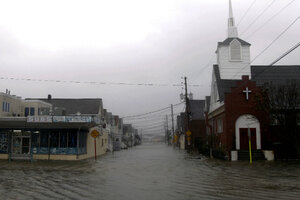 Seth Wenig/AP
The number of power outages caused by hurricane Sandy as it barreled toward the New Jersey shore shot up Monday afternoon and then soared in the evening, posing a growing challenge to utility companies that were bracing for the storm's worst effects.
By mid-afternoon, with the giant storm still about 100 miles at sea and hours before its expected landfall in the evening, more than 300,000 consumers in 11 states were left in the dark. That was a big jump in overall outages from the six states and 36,400 customers that had reported being out of power just six hours earlier, according to the US Department of Energy's Office of Electricity Delivery and Energy Reliability.
But the numbers reported to the DOE and relayed on its websites were quickly overshadowed by those reportedly directly by utilities: By 6 p.m. more than 2,100,000 customers were without power in 11 states: New Jersey utilities reported 606,671 in the dark, New York 593,992, Massachusetts 316,190, Connecticut 229,440, the Delmarva region 141,613, Rhode Island 109,182, Virginia 43,300, Pennsylvania 26,615,North Carolina 6,466, and New Hampshire 28,427.
---