Hurricane Sandy surge could flood New York runways and subways
Hurricane Sandy brings strong winds and rain, but for the New York area, the biggest concern may be the storm surge, which could come ashore in some places as a 13-foot wall of water.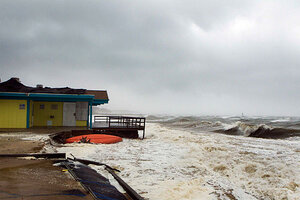 Lucas Jackson/Reuters
Storm experts say the worst damage from hurricane Sandy is likely to be from the storm surge, a wall of water that will sweep in with the high tide, engulfing homes, businesses, and anything else in its way.
The surge pushed ashore by the storm could be as high as 13 feet in places such as Stamford, Conn., and Staten Island, N.Y., according to estimates from the National Oceanic and Atmospheric Administration (NOAA). Full-moon tides could add another foot, and near-hurricane-force wind gusts could produce 20-foot waves.
Experts say the surge could put some runways at New York-area airports under water and perhaps flood New York subways with seawater, leading to costly electrical damage.
"The surge is going to be near-record and, in a few places, record levels," says James Aman, a meteorologist at Earth Networks, the parent of the Weather Bug.
The implications of a large surge are that some shoreline communities could be flooded, possibility resulting in life-threatening situations for residents who did not evacuate.
On Monday, Norwalk, Conn., residents Fred and Lisa Clarke left their home on the Norwalk River just in time.
---