Hurricane Sandy response: Officials get good marks, so far
Amid the damage caused by hurricane Sandy, local, state, and federal officials are at this early stage largely united in the opinion that everyone did everything they could.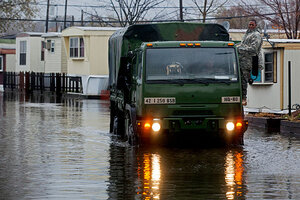 Craig Ruttle/AP
Though it is too early to make definitive assessments, rescue and relief efforts along the storm-hit East Coast have won some early public praise.
Local and state officials were lauding federal officials for their preparations, and federal officials were praising local crews for their quick action in providing shelter in flood-risk zones, guiding others to safety, and mounting door-to-door rescues in one New Jersey community ravaged by surprise river overflow.
On Tuesday, emergency personnel including National Guard forces continued to respond to challenges from North Carolina northward, and the efforts promise to remain intense for days, as efforts to restore electric power and recover from floods continue.
Despite the enormous work ahead – and the damage left behind – Sandy's aftermath has not yet brought significant finger-pointing, though.
"The folks at FEMA ... have been excellent," said New Jersey Gov. Chris Christie, referring to the Federal Emergency Management Agency.
Mr. Christie, engaged in his own mobilization efforts at the state level, recounted late-night conversations with President Obama and with FEMA personnel, preparing the way for federal disaster relief.
"The president has been outstanding in this," said Christie, a Republican governor who has been vocal in his support for Mitt Romney in the presidential race.
---