Sandy, unspent, moves toward Great Lakes. How much more rain, snow?
'Superstorm' Sandy was over western Pennsylvania Tuesday morning, moving toward the Great Lakes. Some spots may see a foot of rain, and waves on Lakes Michigan and Huron could reach 35 feet.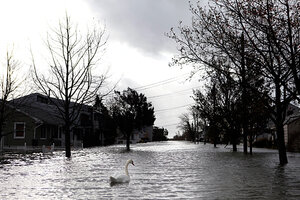 Jason DeCrow/AP
The tailings of superstorm Sandy, now a post-tropical cyclone, continue to lash the Northeast and the mid-Atlantic, even as the storm on Tuesday is wreaking fresh havoc in interior states, whipping up massive waves on the Great Lakes, dropping several feet of snow in the Appalachians, and creating risk of new flooding and power outages extending into the Midwest and Canada.
As of midmorning Tuesday, Sandy's approximate center was over western Pennsylvania, inching northwest at a leisurely 15 miles per hour. The storm is expected to make a slow turn to the north and then the northeast Tuesday night – a track that will take the slowly fading center across western New York and then into Ontario. Seen from space, the storm, which caused record storm surges in New York and New Jersey, covers nearly half the United States.
---