Economic toll of Sandy: Damage second only to Katrina?
Superstorm Sandy cut a path of destruction that could near $50 billion. Economic activity in New York City dipped 20 percent in storm's wake, but economists do not expect that Sandy will have a major impact on the nation's economic growth.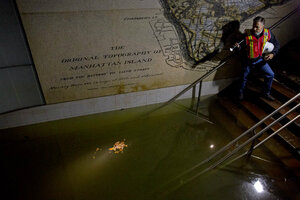 Craig Ruttle/AP
Economic impacts of superstorm Sandy are just starting to come into view, but what's clear is that they're big.
The nation's economic capital, New York City, has been hobbled by electricity outages, floods, and damage to its massive subway system. From flooded Hoboken to wave-battered Atlantic City, the storm caused extensive structural damage in cities and towns along the coast of New Jersey. And across a multistate region, consumer activity was sidelined at least briefly by Sandy's winds, rains, and snows.

One firm that specializes in storm damage forecasting, EQECAT, raised its Sandy estimate to total economic damage of $30 billion to $50 billion, with about one-third of that being insured losses claimed by homeowners and businesses. For reference, $50 billion is about 0.3 percent of one year's gross domestic product (GDP) for the US.
If accurate, that estimate would put Sandy behind hurricane Katrina in 2005, but ahead of other major US hurricanes.
The investment firm Morgan Stanley cites data from the National Climatic Data Center, which puts the economic damage of Katrina at $146 billion, when measured in today's dollars. Pending a final tally from Sandy, the second-ranking hurricane since 1980 is Andrew, which in 1992 did damage of $44 billion in today's dollars.
---