In Sandy's aftermath, military brings rescue swimmers and 'bucket trucks'
The US military has manpower, equipment, and skills that make it uniquely suited to disaster relief. In the aftermath of hurricane Sandy, it is filling in important gaps.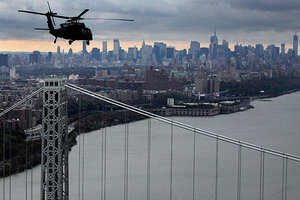 Mark Lennihan/AP
As the cleanup continues in the aftermath of hurricane Sandy, some 12,000 National Guard troops have been mobilized to active-duty status in more than a dozen states to provide rescue and relief.
The Pentagon brings its own unique skills and equipment to the nation's natural-disaster response. Mobilizing quickly in the wake of calamity – both forecast and unexpected – is, after all, the US military's specialty.
So, too, is quickly mobilizing supplies, including food, transport, and specialists like rescue swimmers and engineers. The Pentagon has long relied on these sorts of quick-reacting supply lines to win its wars, part of the military maxim that "amateurs think about tactics, but professionals think about logistics."
Those capabilities have come in handy in the wake of the Category 1 hurricane. "What we provide to FEMA and the state governors at their request is just a myriad of support and response and rescue capabilities, so that they can pick and choose what they need, and they know they'll have it," says Lt. Col. Tom Crosson, a Pentagon spokesman. "We can go anywhere in the country and get it quickly if they don't have it."
That begins with the raw manpower of the National Guard. Even before Sandy made landfall this week, more than 61,000 National Guardsmen were standing by to lend a hand to civilian authorities. Now, those who have been activated are helping state police and local fire departments with rescues, debris removal, and evacuation of hospitals.
---