Many questions, few answers about loss of HMS Bounty to hurricane Sandy
The search continues for missing captain of the HMS Bounty, which sank Monday off Cape Hatteras, N.C., during hurricane Sandy. Rescued crew members aren't talking, leaving key questions about the tragedy unanswered.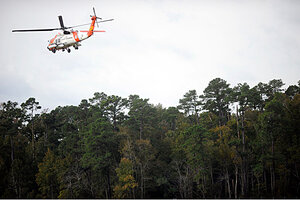 Amanda Lucier/The Virginian-Pilot/AP
The US Coast Guard continued Thursday to search for Robin Walbridge, one of two sailors lost when the 180-foot HMS Bounty, a 1960 replica of a famous 18th-century merchant vessel, foundered and sank in the throes of hurricane Sandy on Monday.
But as the search enters its fourth day, persistent questions arise about why the captain put a small, mostly greenhorn crew into the treacherous waters off Cape Hatteras, N.C., within reach of a hurricane.
To be sure, Captain Walbridge had sailed the Bounty for about 17 years and was, in his wife's words, "the best in the industry" – that industry being educational missions of modern tall ships.
In a post to Facebook before the ship ran into trouble, Walbridge defended what apparently was a controversial decision to cast off from Connecticut ahead of the storm. "Bounty's current voyage is a calculated decision... NOT AT ALL... irresponsible or with a lack of foresight as some have suggested. ... A SHIP IS SAFER AT SEA THAN IN PORT!" Walbridge wrote.
The Bounty's 14 survivors have collectively decided to not speak to the press out of respect for Walbridge and the only confirmed casualty, Claudene Christian. But into that silence, with Walbridge still missing, has poured rampant speculation about the captain's decision.
"The thing that's striking to a lot of people is why Walbridge put himself in that position … when he had another avenue out: He could've headed eastward into the Atlantic and waited off of Halifax or Nova Scotia," says Sal Mercogliano, a former merchant marine who is now a maritime historian at Campbell University, in Buies Creek, N.C. "Why cross the path of a hurricane and put yourself in such a precarious position? It's hard for a lot of people to fathom."
---