Coast Guard concludes HMS Bounty captain went down with ship
Calling off efforts to find Capt. Robin Walbridge, US Coast Guard proceeds with its investigation into why the replica of the HMS Bounty sank Monday off the North Carolina coast in high seas of hurricane Sandy.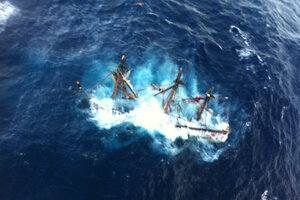 US Coast Guard, Petty Officer 2nd Class Tim Kuklewski/AP
While questions will remain about Bounty Capt. Robin Walbridge's decision to brave Cape Hatteras, N.C., during a hurricane, his ultimate legacy, his family says, will be one that goes back to the origins of global seafaring: his final act of putting his crew and ship above himself.
After 90 hours of searching some 12,000 square miles of open ocean, the US Coast Guard on Friday suspended the search for Mr. Walbridge, who had captained the 180-foot three-master for 17 years. The boat was a near-exact replica of the 18th-century "square rigger" that became the scene of a mutiny that inspired half a dozen Hollywood movies.
In the end, the Coast Guard concluded that the Bounty's loss to hurricane Sandy took two lives. Claudene Christian, who joined the Bounty in May and claimed an ancestral link to Bounty mutineer Fletcher Christian, died after being pulled out of the waters on Monday.
But as the Coast Guard made its condolences and began an investigation into the sinking, his family hailed Walbridge for being the consummate captain in his efforts to make sure that the rest of the crew survived after it became clear that the Bounty was going to sink.
"He always looked after his crew first," his sister, Lucille Jansen, told Reuters. "That's the last memory we'll have of him because he did exactly what a captain should do. He made sure the crew was safe."
Born in Vermont, Walbridge grew up in Florida, where he turned a teenage love of sailing into a career, first as a houseboat mechanic on the Suwanee River, then captaining the Governor Stone, Vision Quest, and Bill of Rights as he earned his 50-, 100-, and 500-ton captain's licenses.
---