Mayor Bloomberg cancels NYC Marathon: Did he have a choice?
New York Mayor Michael Bloomberg said the NYC Marathon, scheduled for Sunday, had to be called off to avoid controversy. There's disappointment among runners, but also understanding.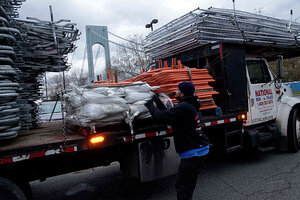 Seth Wenig/AP
For days, New York Mayor Michael Bloomberg has said the New York City Marathon would go on despite critics who complained the city should cancel the event because of hurricane Sandy.
On Friday evening, two days before the event was to take place, Mr. Bloomberg succumbed to the outcry, announcing the marathon would be cancelled.
"While holding the race would not require diverting resources from the recovery effort, it is clear that it has become the source of controversy and division," said Bloomberg in a statement. "We cannot allow a controversy over an athletic event – even one as meaningful as this – to distract attention away from the critically important work that is being done to recover from the storm and get our city back on track."
Those who argued the marathon should be canceled said it was disrespectful to Staten Island, which suffered heavy losses from the storm. More than 200,000 Manhattan residents still don't have electricity, and the tabloid newspapers ran photos of generators that would be used to power the race organizers' equipment at the finish line.
But some of the estimated 47,000 participants in the race, which starts on Staten Island, said they thought it would show the world that New York was quite alive – even if the lights were out in many places. The race itself is an international event attracting runners from all over the globe, and city businesses make millions of dollars from hotel bookings, airline tickets, and food.
To show that it was sensitive to the challenges facing New Yorkers, the organizers of the race, the New York City Road Runners Club, gave $1 million to help those in need.
---