Why hours-long lines for gasoline aren't easing in Sandy-hit areas
The port of New York is again open, allowing tankers to bring fuel to New York. But with damage and power outages across broad swaths of New York and New Jersey, it's not that simple.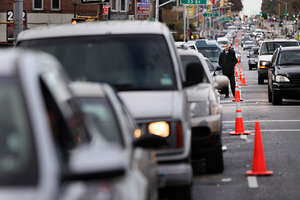 Seth Wenig/AP
At least in theory, some of those mile-long waits for gasoline in the New York metro area should start to diminish.
As of Thursday, the US Coast Guard had opened the port of New York to barges carrying petroleum products. In the wake of superstorm Sandy, the Coast Guard needed to make sure all the aids to navigation were in the right place.
Opening up the port means that raw gasoline can move to terminals where it gets blended with ethanol and other additives. Then, tanker trucks can start to move gasoline to places where motorists can tank up.
"That solves a lot of the problems," says Sander Cohan, a principal at Energy Security Analysis, Inc. in Wakefield, Mass.
It can't come soon enough for drivers – many of them taxi drivers – waiting outside a Hess station at 45th Street and 10th Avenue in Manhattan. One line of cars stretched for 26 blocks – about 1.3 miles.
Mamouolon Kaba, a taxi driver, had been in line for six hours. He just shook his head in dismay at his waste of time. Another taxi driver, Bolivar Villacis, explained that he was required to return the car to his garage with a full tank for the next driver. He was in a shorter line – only 2-1/2 hours.
"I'm not making any money while I'm here," he said as police officers tried to prevent cars from jumping the line.
Unfortunately, the fuel arriving in the next few days won't solve all the problems.
Many gasoline stations in the Sandy-ravaged area still don't have electricity, which is necessary to power the pumps. In addition, some refineries that supply gasoline to the area are still closed because of damage. And it does not take long for gasoline stations to go through their supplies when motorists are lined up for miles.
---