Hurricane Sandy's darker side: Looting and other crime
Residents say the Rockaways section of the Queens in New York City is a family friendly place. But Hurricane Sandy has brought looting and robberies, despite an increased police presence.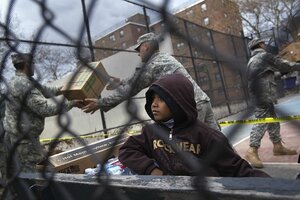 Shannon Stapleton/REUTERS
The last bus from Brooklyn rolled into the Belle Harbor neighborhood of the Rockaways, Queens, on Friday evening just before 6 p.m., as darkness slipped quickly over the beach-town streets, obscuring curbside piles of discarded furniture and electronics.
No lights powered on inside the modest one and two-story houses, as they haven't for the past five nights, since Hurricane Sandy – a post-tropical cyclone with 80 mile-per-hour winds – struck this small peninsula and the greater New York City area and New Jersey on Monday, knocking out power for 3.5 million homes and businesses.
When the bus stopped, the 11 passengers scuttled out and set off for home, without lingering on the normally commercial street. Residents describe the Rockaways as a family friendly place, with certain pockets of rough neighborhoods.
But some people say Sandy's aftereffect of darkness is making the area more dangerous, resulting in looting and at-home robberies, despite an increased police presence.
"I saw this guy stealing televisions from a nursing home right on the boardwalk on Tuesday, and the workers were chasing him up the street," said Ben Cooper, who lives in Belle Harbor. "Every time I saw him he had a different TV."
Mr. Cooper and a few friends stood talking on his house's porch. It was about 7:45 p.m. and they were the only people around. The ocean breeze was getting colder and stronger. He held his flashlight and looked out onto the street, which was still covered with sand.
"There's no lights, there's no cameras, there's no alarms, there's no nothing. It's kind of scary, you know?" he said.
His neighbor, Talentin Gutierez showed a reporter a borrowed generator, worth about $2,000. His was robbed the other day. Tonight, he will sleep in his car – wrecked from water damage – to guard the generator.
---