Raves for 787 Dreamliner. Will new plane bring fun back to flying?
Don't hold your breath. Boeing's new 787 Dreamliner has a lot of cool features, say passengers who flew United's first commercial Dreamliner flight. But analysts say US airlines that buy it won't opt for all the amenities.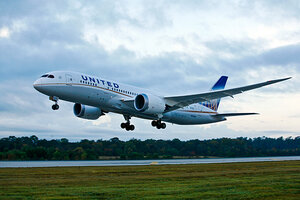 Eric Kayne/Houston Chronicle/AP
The Boeing 787 Dreamliner, which United Airlines flew on Sunday from Houston to Chicago, drew rave reviews from passengers aboard the inaugural flight. But whether the aircraft eventually transforms the experience of the flying public from cramped and joyless to something verging on enjoyable depends entirely on how airlines that order it decide to outfit the plane's interior, say aviation experts.
To be sure, the initial chatter was glowing. Newscasts in Chicago are replaying their video of a ceremonial two-hose wash that greeted the United Airlines aircraft, as well as effusive comments from passengers about bigger windows, larger overhead bins, higher humidity in the cabin, and amenities such as touch-free faucets in the lavatories. The Chicago Tribune headline: "Passengers Love The New Boeing 787 Dreamliner."
Industry analysts are more sober in their assessments, saying United has done less to outfit the Dreamliner than have foreign carriers such as All Nippon Airways, Ethiopian Airlines, Air India, and others – a sign that carriers in the US are likely to continue to put passenger comfort down the list behind the need to make money.
---