Sandy relief: How trips to the Hamptons turned into a mission of mercy
New Yorkers have come together to help each other in the aftermath of hurricane Sandy – from volunteers reinstalling drywall to lawyers helping victims navigate government bureaucracy.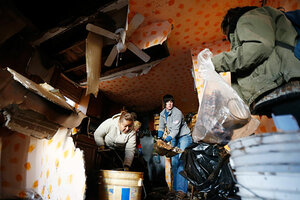 Julio Cortez/AP
East End Helicopters, which normally ferries people to the Hamptons for summer weekends, is dropping bottled water, warm clothing, and food to people stranded on Long Island.
"We're doing 8 to 10 flights a day," says Mike Scialabba, chief pilot of the company. And who is paying for these mercy flights?
"So far, it's coming out of my pocket," says Mr. Scialabba, who also gave his workers his credit card to pay for racks of warm clothing at Wal-Mart. "I'm just looking for people to help offset the costs."
The helicopter runs and Scialabba's generous spirit are just one example of individuals and companies who are reaching into their pockets. Although the Federal Emergency Management Agency (FEMA) will probably have the largest share of the financial burden, contributions and volunteers are considered to be an essential element of relief operations.
"Groups that are in the community day in and day out and volunteers from the community are in the best position to identify the needs that are most pressing that might take a while to get heard at the government level," says Meghan Moloney, director of programs at New York Cares, New York City's lead agency coordinating volunteer work. "They know the seniors, and they know the people who are vulnerable."
---